" Digital stories help students with time management, problem solving, communication skills and interpersonal qualities such as teamwork, critical thought, information collection, data interpretation, text and image analysis, synthesis and self-evaluation. "
- Carmen Gregori Signes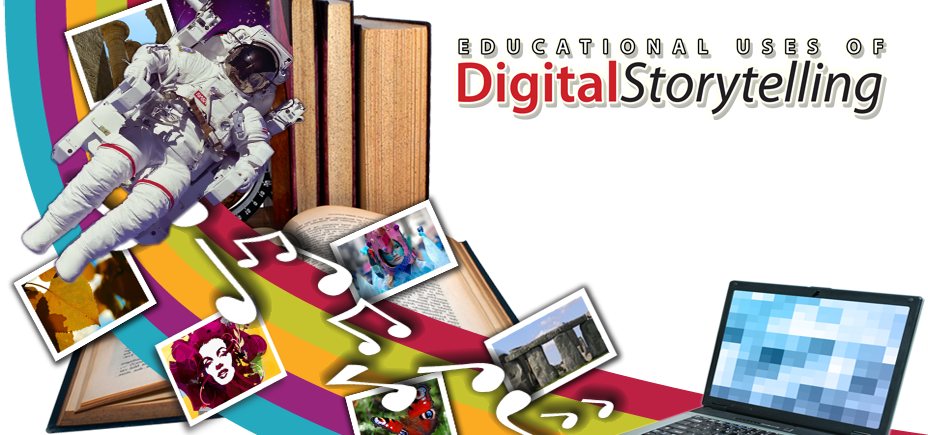 About this Site
The Goals of this Website
The primary goal of the Educational Uses of Digital Storytelling website is to serve as a useful resource for educators and students who are interested in how digital storytelling can be integrated into a variety of educational activities. The site was originally created in 2004 and faculty members and graduate students in the Learning, Design and Technology Program at the University of Houston College of Education continue to maintain the site and add new content.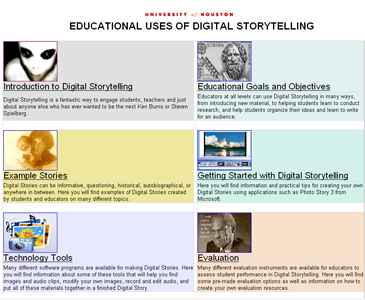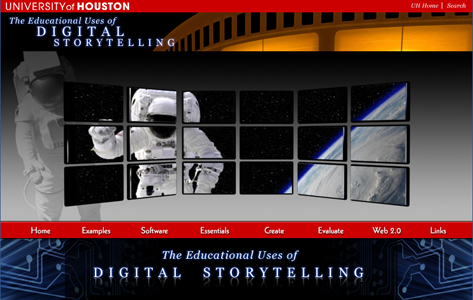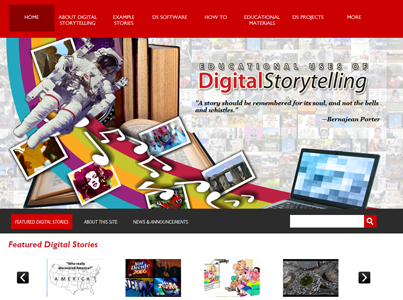 The EUODS Website in 2004 The EUODS Website in 2008 (still available online) The EUODS Website in 2013
Our long term goal is to make the Educational Uses of Digital Storytelling website a comprehensive clearinghouse of information for both those just starting to use digital storytelling as well as for educators, graduate students and researchers who want to deeply explore the many facets of this educational technology tool.
Educational Fair Use
Although we stress to our students that they should try to create their own materials for use in their digital story projects, some of the digital stories contained on this site include still images, audio files and video clips that were found on the Internet using commonly available search engines, websites such as YouTube, as well as from television broadcasts, commercial VHS tapes and DVDs. We hope that these digital stories can serve as examples to educators of how the power of accessible multimedia can be used to engage students in today's K-12 and higher education classrooms and excite them about the possibility of creating their own digital stories.
Permission to Use Material from this Site
Permission is granted to all educators and students who wish to use any material on the site including text, images, digital stories and other resources, for personal, educational, and/or non-commercial purposes. Please note that if material is used, appropriate attribution to this site is required and should include the following information:
Robin, B. (2014). The Educational Uses of Digital Storytelling Website
University of Houston College of Education
http://digitalstorytelling.coe.uh.edu

Contact Information
Questions or comments about this website or any materials found on the site should be emailed to Bernard Robin, Ph.D. at: brobin@uh.edu
News & Announcements
2014 Announcements
---
Digital Storytelling MOOC (Massive Open Online Course)
Powerful Tools for Teaching and Learning: Digital Storytelling is a free 5-week MOOC that introduces educators to digital storytelling and explores ways that educators might use this technology tool to enhance their students' learning experience. The MOOC will provide a solid foundation in the basic components of digital storytelling with tutorials, example stories and links to additional readings. The MOOC will also provide hands-on opportunities for learners to create their own digital stories.
The MOOC is free and the only requirement for participating is a PC or Mac desktop or laptop computer, an Internet connection and an interest in learning to use digital storytelling tools and techniques to support teaching and learning across different grade levels and multiple content areas. This MOOC is intended for K-12 teachers in all disciplines, although it is open to anyone with an interest in digital storytelling. Course participants will use WeVideo, a free web-based video editing program to create a digital story that can be shared online.
Teachers in the state of Texas may be eligible to receive Continuing Education Units if they complete the major requirements of the course.
Powerful Tools for Teaching and Learning: Digital Storytelling is scheduled to begin on September 8, 2014 and end on October 12, 2014.
For more information or to enroll in this MOOC, please go to:
https://www.coursera.org/course/digitalstorytelling
---
Fulbright - National Geographic Digital Storytelling Fellowship

The U.S. Department of State and the National Geographic Society are partnering to launch the inaugural Fulbright-National Geographic Digital Storytelling Fellowship competition. This new component of the Fulbright Program will offer up to five awards to U.S. citizens. Over a nine month period, awardees will create multi-media stories on globally significant social or environmental topics including biodiversity, cities, climate change, cultures, energy, food, oceans, and water.

The Fulbright-National Geographic Fellowship provides a unique platform for U.S. Fulbright awardees to build awareness of transnational challenges, comparing and contrasting cross-border issues. Fellows will share their stories through National Geographic's platforms, using a variety of digital storytelling tools, including text, photography, video, audio, graphic illustrations, and/or social media.

The deadline for submission is February 28, 2014.

For more program information and to apply for the Fulbright-National Geographic Fellowship, visit
http://us.fulbrightonline.org/fulbright-nat-geo-fellowship
---
2013 Announcements

Storytelling: From Oral to Digital
Presented by Public Partnership & Outreach and the College of Education, Department of Teaching, Learning and Culture, Texas A&M University
Through narrative, we learn from experience by reflecting upon experience, declaring what it means, and distilling it into a symbolic form to be expressed and remembered. Digital storytelling integrates oral storytelling with technology. Constructing a digital story requires individuals to organize information, write and utilize technology, but most importantly authors must reflect on experience (Barrett, 2005).
Unlike oral stories that are subject to varying interpretations, digital stories are permanent artifacts capturing a specific moment in time; one telling of an experience that stands as an object for personal reflection and evaluation (Lathem, Reyes, & Qi, 2006).
Workshop Presenters:
Dr. Lynne M. Walters
Dr. Martha R. Green
Date: Wednesday, July 24 & Thursday, July 25, 2013
Time: 9:00 am to 4:00 pm
Location: General Services Complex
Fee: $125.00: Includes curriculum materials & lunch both days
CPE/GT/ESL Credit: 14 hours
Register online: https://secure.touchnet.com/C21490_ustores/web/product_detail.jsp?PRODUCTID=3273
For additional information, contact Dr. Martha Green at mgreen@tamu.edu or 979-862-6700.
Workshop flyer available at: http://worldroom.tamu.edu
Workshop focus:
This workshop will engage participants in the development of a digital story, provide theoretical support for the use of digital storytelling in education and qualitative research, and demonstrate pedagogical approaches for using digital storytelling in the writing and social studies classroom.
Topics include:
• Designing a Digital Story using Audacity & Windows Moviemaker 2.6
• Theoretical and research-based support for Digital Storytelling
• Using Digital Storytelling to teach the narrative writing process and increase voice
• Digital Storytelling as a Qualitative Research Methodology
• Qualitative interview methods
• Digital/visual literacy: using authentic images in storytelling
• Copyright issues in digital video production
Martha R. Green, Ph.D. is a program coordinator for Public Partnership & Outreach, Office of the Provost and Confucius Institute, Texas A&M University, and a lecturer in the Department of Teaching, Learning and Culture. She conducts workshops, does research, and teaches about digital storytelling and documentary development as tools for critical thinking, reflection and transformative learning.
Lynne Masel Walters, Ph.D. is an associate professor in the Department of Teaching, Learning and Culture, Texas A&M University. From 2011-2013, she was a visiting associate professor, Universiti Utara Malaysia. With a doctorate in mass communication from the University of Wisconsin, her research and teaching focuses on media, technology and culture.
---
Welcome to the 2013 version of the Educational Uses of Digital Storytelling website. This new version has been in development for many months and although it is still a work in progress, I hope that you will find lots of interesting material on the site related to the use of digital storytelling in educational settings. The site is aimed at those just starting to explore this technology as well as long-time users as well as educators and students who are interested in exploring articles and research studies that deal with digital storytelling.
I would like to especially thank several of my colleagues who have helped make this website possible:
Arthur Beltran, who is the chief designer of the website; Rashmi Chhetri, who has cataloged all of the digital stories on the site and made them ready for web delivery; Sara McNeil, who has provided academic, professional and technical support for the website and all of our digital storytelling efforts at the University of Houston; Michael Rapp, who makes sure that the website is accessible 365 days a year;
and all of my current and former digital storytelling students who have contributed much of the content on the website.
And for those visitors who may want to access content from the previous version of the EUODS website, it is still available at: http://digitalstorytelling.coe.uh.edu/archive
If you have any questions or comments about the website, or would like to suggest that additional information be added to the site, please contact me at: brobin@uh.edu
Thanks and happy digital storytelling!
Bernard Robin, PhD
Learning, Design and Technology Program
University of Houston College of Education
Houston, TX, USA

©2014 The University of Houston
4800 Calhoun Road, Houston, Texas 77004
713.743.2255
Contact Us
Questions or comments about this website or any materials found on the site should be emailed to:
Bernard Robin, Ph.D.
University of Houston, College of Education


Previous Version of the Site
The previous version of the Digital Storytelling website can be accessed at: http://digitalstorytelling.coe.uh.edu/archive