" Everyone has many powerful stories to tell and people who believe they are mundane, uninteresting, or unmemorable possess beneath this mask a vivid, complex, and rich body of stories just waiting to be told. "
- Center for Digital Storytelling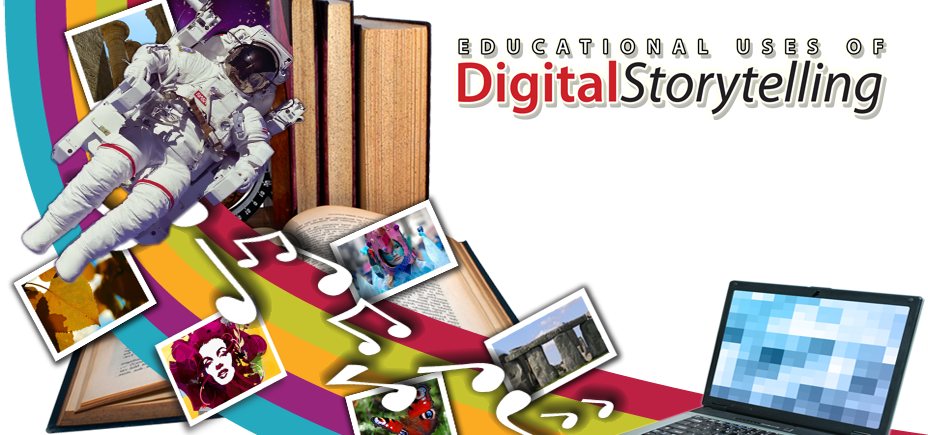 About this Site
The Goals of this Website
The primary goal of the Educational Uses of Digital Storytelling website is to serve as a useful resource for educators and students who are interested in how digital storytelling can be integrated into a variety of educational activities. The site was originally created in 2004 and faculty members and graduate students in the Instructional Technology Program at the University of Houston College of Education continue to maintain the site and add new content.

The EUODS Website in 2004 The EUODS Website in 2008 (still available online) The EUODS Website in 2013
Our long term goal is to make the Educational Uses of Digital Storytelling website a comprehensive clearinghouse of information for both those just starting to use digital storytelling as well as for educators, graduate students and researchers who want to deeply explore the many facets of this educational technology tool.
Educational Fair Use
Although we stress to our students that they should try to create their own materials for use in their digital story projects, some of the digital stories contained on this site include still images, audio files and video clips that were found on the Internet using commonly available search engines, websites such as YouTube, as well as from television broadcasts, commercial VHS tapes and DVDs. We hope that these digital stories can serve as examples to educators of how the power of accessible multimedia can be used to engage students in today's K-12 and higher education classrooms and excite them about the possibility of creating their own digital stories.
Permission to Use Material from this Site
Permission is granted to all educators and students who wish to use any material on the site including text, images, digital stories and other resources, for personal, educational, and/or non-commercial purposes. Please note that if material is used, appropriate citation to this site is required, such as the one shown below:
Robin, B. (2012) The Educational Uses of Digital Storytelling Website
http://digitalstorytelling.coe.uh.edu

Contact Information
Questions or comments about this website or any materials found on the site should be emailed to Bernard Robin, Ph.D. at: brobin@uh.edu
News & Announcements
Welcome to the 2013 version of the Educational Uses of Digital Storytelling website. This new version has been in development for many months and although it is still a work in progress, I hope that you will find lots of interesting material on the site related to the use of digital storytelling in educational settings. The site is aimed at those just starting to explore this technology as well as long-time users as well as educators and students who are interested in exploring articles and research studies that deal with digital storytelling.
I would like to especially thank several of my colleagues who have helped make this website possible:
Arthur Beltran, who is the chief designer of the website;
Rashmi Chhetri, who has cataloged all of the digital stories on the site and made them ready for web delivery;
Sara McNeil, who has provided academic, professional and technical support for the website and all of our digital storytelling efforts at the University of Houston;
Michael Rapp, who makes sure that the website is accessible 365 days a year;
and all of my current and former digital storytelling students who have contributed much of the content on the website.
And for those visitors who may want to access content from the previous version of the EUODS website, it is still available at: http://digitalstorytelling.coe.uh.edu/archive
If you have any questions or comments about the new website, or would like to suggest that additional information be added to the site, please contact me at: brobin@uh.edu
Thanks and happy digital storytelling!
Bernard Robin, PhD
Learning, Design and Technology Program
University of Houston College of Education
Houston, TX, USA
---
2013 DIGITAL STORTYELLING CONTEST (DISTCO) FOR K-12 STUDENTS & TEACHERS
DISTCO 2013 is an online contest where students and teachers in K-12 are invited to submit their original digital stories between December 3, 2012 and February 25, 2012. Please check the website at http://www.distco.org for complete timeline and rules. The DISTCO project has various benefits for students. It is a challenging competition in which students can showcase their skills in multimedia, technology, research, writing and creativity.
AWARDS
DISTCO Scholarship Awards (New!) – 18 students in Senior Level (Grades 9-12) category will be awarded scholarships totaling up to $84,000 by North American College in DISTCO 2013.
Among the many rewards available in this year's contest are iPad Minis, iPod Nanos, and Gift Cards. Please visit http://www.distco.org/awards for more information.
DOCUMENTS
Please find following documents for more details.
1- DISTCO 2013 Flyer
2- DISTCO 2013 Information Packet
SUBMIT YOUR DIGITAL STORY BY FEBRUARY 25, 2013!
©2013 The University of Houston
4800 Calhoun Road, Houston, Texas 77004
713.743.2255
Contact Us
Questions or comments about this website or any materials found on the site should be emailed to:
Bernard Robin, Ph.D.
University of Houston, College of Education


Previous Version of the Site
The previous version of the Digital Storytelling website can be accessed at: http://digitalstorytelling.coe.uh.edu/archive